What Is Snow Removal?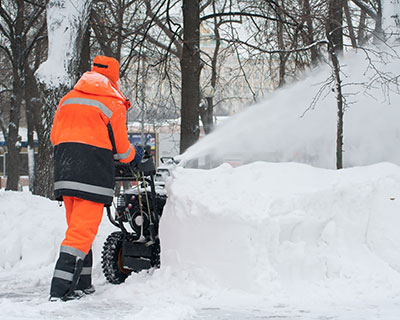 The winter months and the snow they bring can play havoc on your landscaping. Not only does your landscape have to suffer the brunt of the winter, but when the snow falls thick, it becomes difficult for you to move out of your home too. This can prove to be extremely inconvenient and one way to simplify things is to hire the services of a company that provides snow and ice management services.
When you want excellent snow clearing solutions, you need to look no further than Pro-Turf Outdoor Services. They cater to customers in and around Big Rapids, Stanwood, Morley, Traverse City and Acme. Over the years, they have also handled projects for customers across Williamsburg, Mount Pleasant, Remus, Cadillac as well as Reed City. The different solutions they provide are:
Snow Plow
Not all snow removal companies are equipped with the latest tools for the job. When you are hiring any professionals to handle this task, you need to be assured they will be able to tackle the work efficiently and promptly. This also means they should have the latest snow plowing equipment. That makes it easier to clear the snow from larger spaces quickly. Most reputed and credible companies provide a quick response and will reach your property within the shortest possible time.
In fact, some companies are also very proactive in their approach and they keep track of the weather reports in real-time. When you opt for a contract, they will ensure that they proactively come over to your property and clear it of snow in case there is a severe storm.
Snow Removal Services
Snow removal is a specialized field and not every company is able to handle the job in the right manner. It's important that you zero in on a reliable and reputed company that is able to provide you with customized services. If you sign a contract, they will have you covered for the entire season and will ensure your property is clear of snow. This is why you should hire professionals that use the latest equipment and techniques. In addition to snow plowing machines, many companies also use quad-axle dump trucks, snow pushers and heavy-duty loaders and this helps them clear the snow efficiently and quickly.
Snow Plow Contract
Most property owners prefer to opt for contracts. This way they don't have to keep calling the company whenever there is a snowstorm and the snow has to be cleared from the property. These experts keep track of the weather conditions and send out their personnel whenever there is very heavy snowfall. They also track the latest weather data and keep a check on how the snowfall in the region is. This ensures they are well-prepared to head out quickly and clear all the snow from your property in case there is a severe snowstorm.
Snow removal is a specialized job and when you are hiring professionals to handle it, you want the best. The company should be well-established and reputed like Pro-Turf Outdoor Services and should be able to provide you with the kind of solutions you require, at a reasonable cost.
"MORE ARTICLES"
Irrigation
Landscape Design
Landscape Maintenance
Landscaping
Lawn Care