How to Care For Your Lawns in Big Rapids, MI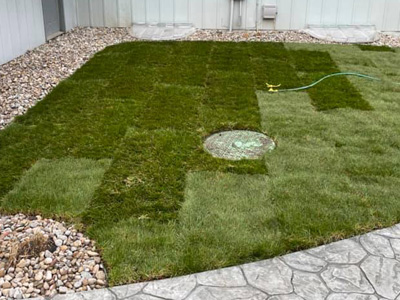 A lush and well-maintained lawn serves many more purposes than enhancing your landscape's beauty. It also creates the perfect green scape for colorful borders and a great spot for enjoying the summer outdoors with friends and family. At Pro-Turf Outdoor Services, we provide complete lawn care and maintenance services to help keep your lawn healthy and beautiful all year round. We serve clients throughout Big Rapids, Michigan and the nearby cities and towns. Whether you are a homeowner or business owner, these lawn care tips should help you create a more beautiful turf.


Lawn Care
Lawn care usually involves the maintenance of the health, vitality, and color of your existing lawn. It covers a wide range of services including soil testing, weed, and pest control, aeration, fertilization, and seeding.


Lawn Mowing
Lawn mowing is an important lawn maintenance step. It is recommended to remove not more than a third of the grass length during a session. How often you should mow your lawn will depend on factors like weather and time of the year.
Summers: More frequent mowing is required during the summer, as the grass grows faster.
Winters: Less frequent mowing is required especially when there is frost.

Mowing should be avoided when the grass or soil is wet. It is also important to alternate the direction of mowing if a mower is used with a roller.

It is recommended to mow the lawn at least once a week during summer. Raise the cutting height of the mower to leave your lawn a little longer. This will prevent it from becoming brown during dry conditions. The rest of the year, it can be mowed once every 2 weeks.

Regular mowing plays an important role in encouraging the spread of roots. This further helps fill out any gaps and blocks weeds.


Lawn Maintenance
Lawn maintenance requires that your lawn is manicured and kept clean all year round. It can involve many processes such as mowing throughout the year, clearing and removing winter debris, and cleaning the yard before winter.

It should typically include the following steps:
Weekly mowing
Border edging for walkways, patio, and driveways
Regular weeding and watering
Spring yard clean-up
Cleaning walkways, driveways, and patio
Fall yard clean-up
Lawn Fertilization
Usually, your lawn will need to be fertilized in the spring and midsummer. It is recommended to apply fertilizer when there is a rain forecast. This will help it wash down and reach the roots and not cause any burns to the leaf blades. It will be even better to choose organic fertilizers, as it is beneficial for the long-term health of your lawn.

If there is no rain, it is recommended to water the fertilizer down. Once fertilized, the lawn should look greener in a week.

If you want to keep it looking good, it is best to feed it regularly. This is because most soil cannot provide all the required nutrients your turf will require during the growing season. The type of fertilizer and the time of fertilization depend on your grass type. For example, warm-season grasses are best fertilized in spring. Cool-season grasses need heavy fertilization during the fall and light fertilization in early spring.

When it comes to lawn care and landscape maintenance, we at Pro-Turf Outdoor Services provide a complete range of services. We are licensed and insured and have certified experts on our team serving residential and commercial properties throughout Big Rapids, MI. Over the years, we have built long-term relationships with our clients in the region. We are a member of the Michigan Turf Grass Association and hold many other certifications and associations. If you need more information about our services, call us at 231-629-8310 or write to us using this Online Form.