Lawn Fertilization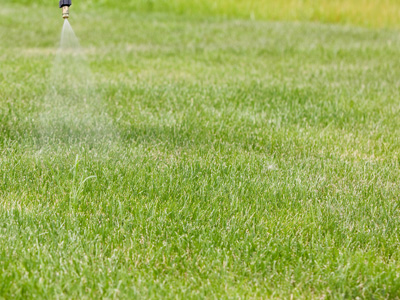 Creating the lawn of your dreams starts with using the best quality seeds or sod and hiring experienced and skilled professionals for the installation. However, after the grass takes root and is ready for use, you must regularly ensure appropriate care.

While mowing, aerating, pest control, de-weeding, etc., are crucial facets, the lawn will require proper nutrition to survive and thrive. We at Pro-Turf Outdoor Services are a leading lawn care company serving commercial and residential clients throughout Michigan, Big Rapids, and surrounding Cities. We have over a decade of experience in this field; our team has helped create and maintain landscapes and lawns of all types. Our custom lawn fertilization services are a great way to maintain your lawn's appearance and condition.


The Importance of Lawn Fertilization
We are your local landscaping professionals offering tailored turf fertilization treatments. Our techniques and applications help your grass become healthy and resilient. Many property owners wonder why we recommend fertilization treatments every six months.

The water used to water the plants washed away some portion of the nutrients from the topsoil as it flows into the yard's drains. Standard depletion and rainfall are other factors that reduce the soil's nutrient content. Replenishing nutrients is a great way to ensure your lawn has suitable conditions for healthy growth.

With the right organic fertilizer products, you will find that the grass looks lush and can fight diseases and pest infestations well. When you have resilient and thick grass on your property, it will not wear quickly under heavy foot traffic, which helps maintain its condition.


High-Quality Turf Fertilization Services
We provide reliable and proven lawn fertilization solutions to clients throughout the region, and our team develops customized lawn fertilization plans for each client. While we maintain quality standards, you will find that our pricing structure is competitive, providing you excellent value for money. When you opt for our lawn care package, we include turf fertilization, ensuring that your grass regularly gets the nutrients it needs.


Lawn Fertilizing - The Methods We Use
We are very systematic in our work approach and some things that we focus on include:
Applying organic fertilizers to grass every four-six weeks
Use proved, time-tested products
Providing customized lawn fertilization plans
Checking the lawn for signs of weed growth and infestation during the fertilization process
Specialized Lawn Fertilization Services
We are knowledgeable in every aspect of lawn fertilization and know that different topsoil and grasses need different types of fertilizers. Our experts conduct a thorough soil analysis to determine the soil's nutrient levels and decide which fertilizer products would work best. We are committed to providing our clients with excellent value, and our team will work closely with you to ensure that they exceed your expectations.

For any additional details, please call Pro-Turf Outdoor Services at 231-629-8310. You can send us your queries and requests through this Online Form, and one of our experts will contact you soon to discuss your requirements. We always assure you of the best services.