Snow and Ice Management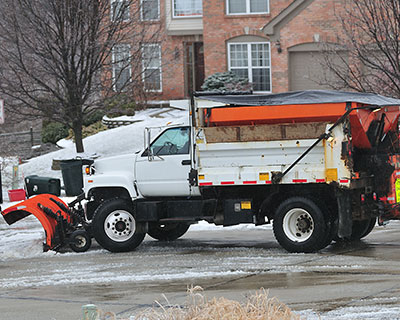 Snow and ice buildup pose safety risks to occupants of homes and commercial properties. It can make outdoor areas slippery, hence increasing the possibility of slip-and-fall accidents. It could also damage roofing and gutters if not immediately removed. For these reasons, you need to have a sensible snow and ice management plan and ask the help of experts like us. At Pro-Turf Outdoor Services, we can remove snow and ice buildup on driveways, walkways, sidewalks, patios, gardens, roofing, and just about anywhere you can find them. We have the right equipment and tools like snow plows, blowers, rakes, shovels, and the like to perform the job efficiently. Our crews have worked on countless snow removal tasks in the past with commendable outcomes each time. Call us wherever you may be in Big Rapids, Stanwood, Morley, Traverse City, Acme, Williamsburg, Mount Pleasant, Remus, Cadillac, Reed City, and other Michigan areas. Our friendly staff will be ready to answer your call and immediately dispatch our snow removal team to your location.



Snow Removal and Plowing Services
When doing snow removal and plowing, we first conduct site assessments to determine the extent of work to be done. We have complete tools and heavy-duty equipment, so we can always work on areas with heavy snow buildup. We may use heavy-duty snow plows and blowers in large outdoor areas. Our skilled and trained people use proven techniques to ensure fast and efficient removal of snow from your property. You can also take advantage of our complete snow and ice management package for a worry-free winter season.
De-Icing Services
Whenever snow turns into ice, it becomes more difficult to remove. But don't worry if you have us since we have the right solutions to this problem. We are considered one of the best providers of de-icing services in Michigan since we use only environment-friendly, fast-acting, and effective de-icing products. Our personnel follows industry-approved methods and techniques to avoid causing damage to your landscaping, paver surfaces and other outdoor structures. We also use appropriate tools for a more effective de-icing process.
Sidewalk Services
Snow accumulation in your property or outdoor area not only hampers free-flowing of vehicle traffic but also prevents occupants from moving freely around. One of the areas that are usually affected by heavy snow buildup is the sidewalk. At Pro-Turf Outdoor Services, we can clear this area in no time with our sidewalk services. Our crews will ensure quick snow removal so you can get in and out of your property without a hiccup.
Residential and Commercial Snow and Ice Services
We have completed countless snow and ice management projects for residential and commercial properties, making us the best company for such concerns. Whether you have small private property or one with a large area, we can always perform the job efficiently and fast. With huge manpower and a fleet of snow plowing trucks, our company is always ready to take any snow and ice removal job. Since we are a local company, you can expect us to know exactly what to do when clearing your property of snow buildups.
Liquid Brine
We'll soon be offering liquid brine solutions as part of our snow and ice management services. This solution requires fewer applications and is proven effective in preventing snow buildup. The method cost lower than traditional de-icing solutions and is more efficient in the surface clearing. Please call us at (231) 629-8310 for more details.