Power Washing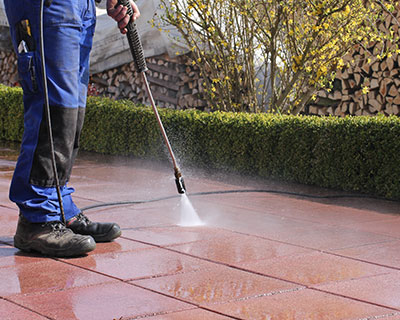 Pro-Turf Outdoor Services is the right company to hire for all your outdoor maintenance concerns. We can expertly handle the maintenance needs of your paver features, walls, fences, and other hardscape features. We employ proven cleaning methods and techniques such as power washing to remove stubborn dirt, grime, mold and stains on your pavers and other masonry features. We have complete equipment, trained crews, and high-quality cleaning supplies to ensure great work quality. Our crews handle commercial and residential properties across Big Rapids, Stanwood, Morley, Traverse City, Acme, Williamsburg, Mount Pleasant, Remus, Cadillac, and Reed City, MI. With our professional pressure washing service and other maintenance services, you're sure to create a great first impression among your guests and anyone else visiting your property.



Hot and Cold Water Systems
At Pro-Turf Outdoor Services, we have modern tools and equipment that can address specific power washing needs. Our hot and cold water systems are highly efficient in handling different types of stains and contaminants. For example, we normally use a hot water system when removing stubborn oil or grease on pavements such as driveways and walkways. Hot water is preferred in these instances since it helps 'melt' such nasty deposits on paved/concrete surfaces. Meanwhile, our crews employ cold water washing when dealing with sand, paint droppings, mud, and other dirt that can be easily washed out.
Patio Washing Services
Patios are great areas for rest and relaxation and are perfect spots to entertain guests or hold weekend bonding with friends and family. Since these outdoor living features are frequented by people, they must be kept clean and attractive at all times. The most important area in your patio that must be free from dirt, stains, mud and grime is the paver surface. With power washing, we can bring back the beauty and elegance of your patio pavers. We also perform paver sealing right after washing the entire patio to prevent soil, sand, and other dirt to accumulate in paver gaps and cause damage.
Driveway Maintenance
We can make your driveway a welcoming area by maintaining its tip-top condition. Driveways are prone to skid marks, oil, grease, and grime – impurities that could make these amenities unpleasant to look at. Typically, we use a hot water system when we pressure wash any driveway to facilitate fast removal of dirt and grime. It's been proven that hot water pressure wash removes dirt and grime faster and is more effective than cold water systems.
Siding Cleaning Services
We can clean different types of siding such as vinyl, stucco, bricks, and stone veneers. Our in-house crews use the right power washing techniques to prevent causing damage to your cladding. We will ensure that they are thoroughly cleaned for flawless appeal.
Clean & Maintained Fences
Fences are not only meant for security purposes but also add to the aesthetic appeal of your home or property. However, dirty fencing due to growing moss, mud, and other dirt can affect the look of your property since it is among the first spots people notice. At Pro-Turf Outdoor Services, we can perform regular or pre-schedule cleaning of all types of fences such as picket fences, concrete, stones, and other fencing materials that can be power washed.
With our comprehensive power washing services, we can bring back the beauty and functionality of your outdoor features and amenities. Just let us know your particular maintenance concern and we'll send our crews to your location fully equipped with the right tools and equipment. Please call us now at (231) 629-8310.