Outdoor Services in Canadian Lakes, MI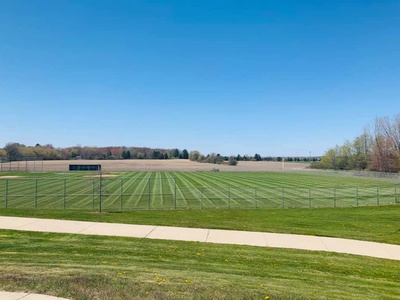 Residential or commercial property owners habitually need outdoor maintenance services at regular intervals. Outdoor spaces tend to get dirty or lose their beauty in a variety of ways. In some cases, wear and tear also reduces the functionality of the outdoor space, making restoration necessary. These outdoor spaces include fields, paved areas, roofs, sidewalks and more. Proper care of outdoor areas improve the curb appeal and even make the spaces safer.

Ideally, you would want to involve a reputed landscaping company that offers outdoor services. At Pro Turf Outdoor Services, we deliver excellent care for outdoor areas. Our professionals hold plenty of experience earned from the numerous jobs they have carried out till to date. We have already built up a great track record and reputation in Canadian Lakes, MI.


Athletic Field Management
Athletic field managers often have a hard time keeping their fields in a good condition. After all, athletic fields remain exposed to far greater stress and foot traffic than residential lawns or other commercial turfs. However, it is necessary to keep the surface of the turf smooth, not only for the beauty of the landscape, but also for the safety of the athletes. Moreover, without adequate care, the turf could also develop various diseases because of the damage it suffers.

Our professionals take care of athletic fields with great expertise. We would provide comprehensive services to help maintain a healthy turf, through adequate fertilization, aeration, overseeding, etc. Professionals can carry out in-depth soil analysis and come up with customized solutions for the field.


Power Washing
Over time, dirt tends to build up over walls, pavers, and hardscaped areas. Regular cleaning methods may fail to remove the dirt accumulated over a long period of time. In case you end up in a situation where you cannot clean the areas no matter how hard you scrub them; power washing is the best solution. Power washing is a cleaning technique that involves using a high-powered jet of water to wash away all the dirt. Our professionals use sophisticated and reliable equipment to deliver power washing services.

Customized power washing services can effectively clean various stains and contaminants. For instance, cold water washing equipment is great at removing sand, gravel, and dirt, while hot water washing equipment helps to clean oily grease. Professionals can leave your driveway, patio, sidings, and fences spotless clean through proper power washing. The effectiveness of this cleaning technique can greatly improve the appearance of your home.


Snow & Ice Management
The accumulation of snow or ice on your property can prove to be hazardous. Plenty of accidents happen because of people slipping and falling because of the ice leaving the surface slippery. Hence, regardless of whether it is a residential property or a commercial one, you should get rid of snow from your property. Apart from posing a hazard to people, snow and ice can also cause several problems. A buildup can severely damage your gutters and the roof, resulting in expensive repairs.

We offer snow and ice management services in a comprehensive manner, cleaning up outdoor areas with great care. Professional companies like us have plenty of equipment for the job, alongside adequate manpower. This ensures quick and efficient snow removal services. Even though ice is hard to remove, de-icing services help to melt ice seamlessly.

Hiring professional services for outdoor areas would indeed pay off. Our team in Canadian Lakes, MI, would be happy to help you out. You may call us at 231-629-8310 or fill up this Online Form. to get in touch with us.