Irrigation Installation & Maintenance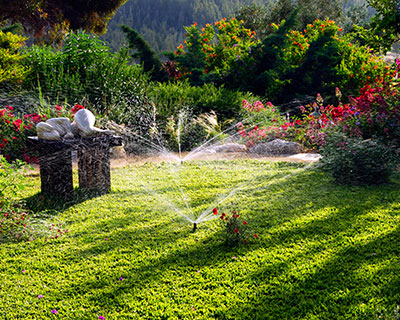 Your irrigation system serves as the lifeblood of your landscape since it supplies water to your plants. Without it, your annuals, perennials, groundcover, turf, and shrubs will wither and then dry out. Given this vital function, you should hire only certified and experienced irrigation installers. You should also look for people who can provide excellent maintenance services. They can ensure the 100 percent functioning of your system and identify possible issues to avoid frequent costly repair jobs. At Pro-Turf Outdoor Services, we have these capabilities. We are the go-to company when it comes to professional irrigation installation and maintenance. We have extensive in this field, so you are assured of efficient and fully functional irrigation systems. Our irrigation projects in Big Rapids, Stanwood, Morley, Traverse City, Acme, Williamsburg, Mount Pleasant, Remus, Cadillac, and Reed City are just some of our numerous completed projects in the state. Contact us soon and let our skilled people take care of your landscape's water requirements.



The Reliable Rain Bird Products
By getting the services of certified installers, you stand to enjoy reliable irrigation that will make your outdoor space inviting with its lush greenery. And if you have a certain preference for Rain Bird products, you'd be surely delighted to know that we are one of the few certified installers of the Rain Bird brand. We carry the complete product line of Rain Bird since we believe in the excellent quality of their irrigation products.
As certified irrigation installation and maintenance contractors, we know the specifics and functions of each Rain Bird product, the right replacement parts to use, and the proper maintenance procedures based on the specific problem of the irrigation system. Our complete inventory of Rain Bird products such as sprinklers, timers, valves, filters, pressure regulators, and many others is among the best reasons why many clients trust us. At Pro-Turf Outdoor Services, we can custom design, install and maintain Rain Bird irrigation systems.
Commercial and Residential Irrigation Services
We have been installing irrigation systems for commercial and residential properties across Michigan. Our well-experienced crews can set up irrigations for commercial landscapes, sports facilities, residential properties, and public areas. We highly recommend using automated systems for efficient coverage of the lawn or landscape area. An automated irrigation system can help reduce your water consumption when designed by professionals like us. We can also install sprinklers, drip, and center pivot systems, depending on your preferences or what we think is best for your landscape. Our comprehensive irrigation installation and maintenance services have been tried and tested by countless residential and commercial property owners in the state, so we are confident that you will be satisfied with the results of our job.
Let Us Take Care of Your Lawn Needs!
For budget-conscious property owners, our company is the perfect option since we offer our irrigation installation and maintenance services at competitive rates. We keep our rates at the lowest possible to serve all types of clients in the areas we serve. With us, you can be sure that you won't have to spend too much just to get a reliable and long-lasting irrigation system. We can even customize your irrigation based on your allotted budget. Call us now at (231) 629-8310 and let us address your specific irrigation needs.