Athletic Field Management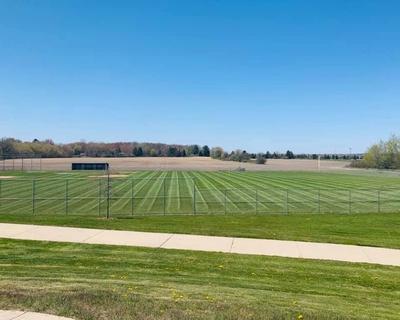 The goal of every athletic field manager is to maintain a safe and smooth surface for everyone. Athletic turfs are highly active and are under constant stress, suffering greater damage and potential risk of disease compared to residential or other commercial turfs. Athletic field management requires thorough and careful attention and dedicated care to fix advanced wear and tear. This makes it an overwhelming task for you, making it important to seek the services of a specialized sports turf management specialist such as Pro-Turf Outdoor Services. We serve clients throughout Big Rapids, MI and the surrounding cities and suburbs.


Comprehensive Athletic Field Management Services
With over a decade of industry experience in creating and maintaining, lush green, beautiful, and healthy turfgrass areas, we have the expertise required to treat your field for optimal results. You can expect the following sports field management services from us:

Fertilization
Weed control
Grub curative and preventative treatments
Soil analysis
Aeration
Overseeding
Turfgrass growth regulator
We will analyze the active soil biology before taking the right steps. Along with overseeding and aeration, we lay a lot of emphasis on turf nutrition to maintain the oxygen rates and organic matter in the soil.


Addressing Unique Field Requirements
When it comes to athletic field management, safety is the first concern. Creating and maintaining a level playfield is one important aspect of our job. Playability is another important requirement. We maintain a dense and well-rooted turf that enables reliable footing while cushioning any falls. While aesthetics is also important, it is only secondary to the other functional aspects.

Sports field management is a unique art. It requires a more intensive level of care than even the most complex commercial lawn maintenance requirement. You can expect advanced knowledge in all aspects of turf management, including:

Agronomics
Soils
Different types of turfgrass
Growth patterns
Weed, pest, and disease
Irrigation
Climatic challenges
There are different types of athletic field soil profiles. This includes native soil, sand-based soil, and amended native soil. There can be even more variations and they can have an impact on infiltration rates, percolation rates, compaction, drainage, and other parameters. At the same time, the non-turf segment of the field requires its own kind of maintenance. We have the experience and expertise required to address all the factors and details.


Choose the Landscaping Experts
From mowing to fertilization to irrigation monitoring, we take care of every aspect of athletic field management. Whatever the use patterns your fields may have, we have the expertise and resources required to take care of it. Typically, use begins in the spring and continues until early winter. When you choose Pro-Turf Outdoor Services, you can trust us with professional sports field management.

If you need more information about our services, feel free to contact us today. We serve clients in Big Rapids, Stanwood, Reed City, Baldwin, Canadian Lakes, and many other nearby cities and towns. Give us a call at 231-629-8310 or fill out this Online Form and you will be able to discuss our unique athletic field management requirements with an expert.