Landscaping Services In Reed City, MI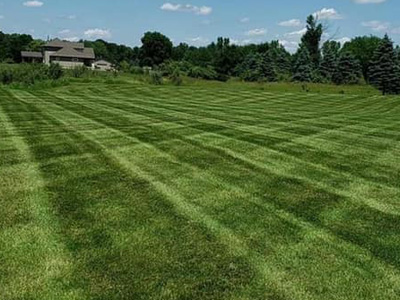 Pro-Turf Outdoor Services is your full-service landscaping specialist in Reed City, MI. From designing and installing new plantscapes and hardscapes to providing lawn care and landscape maintenance, we take care of everything. We have over a decade of industry experience in West Michigan and a combined experience of several decades. All our professionals are licensed, insured, and courteous, and have the skills and resources required to transform your ideas into reality. We provide the following landscaping services throughout the region.


Landscape Design
Our professional landscape designs reflect our client's unique style statement, lifestyle, and preferences. Whether you are a homeowner, contractor, or architect, you can feel confident in your landscape plan being designed by Pro-Turf Outdoor Services. All our designs and plans are created to scale, properly labeled, and can be supported with details. The benefits of choosing our landscape design services are galore:
Detailed planting layout
Accurate initiations for estimations
Phasing projects while maintaining the same vision
Landscape Installation
From landscape design to installation, we take care of all aspects of your landscaping project. And this covers all kinds of plantscaping and hardscaping features. Our design and installation services include:
Tree & Shrub Planting: Our experienced horticulturists ensure trees and shrubs are planted as per your landscape design. Our professional approach and touch ensure proper growth and optimal plant health.
Annual & Perennial Planting: We can install a landscape that stays colorful every season. Our experienced plant experts can assist you in choosing the best annuals and perennials.
Brick Pavers Installation: Our paver experts specialize in laying brick pavers in designs, colors, and shapes of your choice. We can use brick pavers for your patio, driveway, walkways, and deck.
We also install retaining walls, paver patios, and outdoor kitchens, fireplaces, and features.


Landscape Maintenance
We are a full-service landscaping company in West Michigan. Our professional landscape maintenance services will ensure that you enjoy your landscape in the long term. Our range of services includes, but is not limited to the following:
Mowing: We use a combination of traditional tools and the latest mowers to complete the task quickly, creating a neat, clean, and professional-looking lawn. Our crew can set up a periodic schedule to maintain the desired looks.
Trimming: Our trimming services ensure your trees and plants remain healthy and beautiful. We have the experience, tools, and techniques to ensure optimal results are achieved.
Edging: We also perform regular edging along your sidewalk, driveway, patio, and gardens to maintain a beautiful-looking lawn. The use of professional tools including task-based tools and edges provides efficient and clean results.
Dethatching: We have over a decade of experience in providing professional dethatching services. Thatches of dried and dead grass give an unkempt look to your lawn. This is an important step in giving a new lease of life to your lawn by encouraging grass growth and making your lawn a fresher and more attractive look.
We also provide core aeration, overseeding, brush hogging, weed control, tree, and shrub pruning and trimming, weed control, and spring/fall clean-up services for both residential and commercial properties in the region.


Trees And Plants
The right trees and plants have the potential to transform any outdoor space. Whether you want to add ferns, flowering bushes, ground covers, evergreen shrubs, or any native or other trees on your property, we can take care of the complete project. We have categorized different trees and shrubs based on their purposes, making it easier to meet your specific goals:
Shade Trees & Flowering Trees: Such trees are added to enhance the visual appeal of your outdoor space and views. They play a big role in enhancing curb appeal.
Privacy Plantings: We can create living fences with trees and tall hedges to obscure the view or create a higher degree of privacy.
Accent Plantings: We will work with you to select your favorite shrubs and trees that add colors, variety, and beauty to your yard.
Foundation Plantings: We also plant evergreen plants that can help in hiding a crawl space or foundation. They create a more natural-looking design.
At Pro-Turf Outdoor Services, there is no landscaping job that is too big or too small for us. We provide all kinds of plantscaping and hardscaping services you may require to be able to enhance your outdoors in Reed City, MI. If you want to discuss your landscaping goals and maintenance requirements with us, feel free to call us at 231-629-8310. You may also write to us using this Online Form.