Landscape Maintenance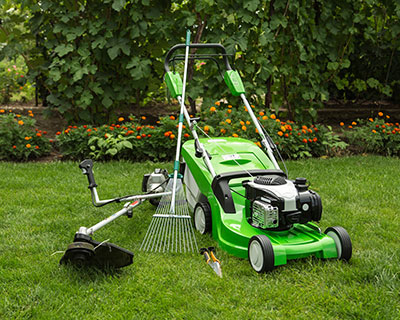 Pro-Turf Outdoor Services provides comprehensive professional landscape maintenance services at budget-friendly rates. We are one of the few companies in the state with extensive experience in maintaining residential and commercial landscapes. Our primary goal is to always exceed your expectations by offering quality workmanship and highly personalized services. As a full-service company, we have everything you need to enjoy a well-maintained, stunning landscape that will be your source of joy and pride. We serve Big Rapids, Stanwood, Morley, Traverse City, Acme, Williamsburg, Mount Pleasant, Remus, Cadillac, and Reed City, so please feel free to contact us wherever you are in these areas. We'd be happy to perform for you any or all of the following maintenance tasks:



Mowing
Let us make your lawn look spic and span and healthy throughout the year with our professional mowing services. We use heavy-duty mowers, as well as traditional tools to ensure fast completion of the task. Our crews follow systematic procedures and use effective methods when working on any lawn maintenance project. We can mow your lawn weekly, bi-weekly, or on your preferred schedule.
Trimming
Trimming is essential to keep trees, shrubs, and other plants healthy and attractive. But why trim your plants yourself when you can just get our service at a low rate? We know the right methods and techniques so you can always expect outstanding results. This task is commonly included in our landscape maintenance package for residential and commercial landscapes.
Edging
One of the easiest ways to make any lawn stunning is performing regular edging along driveway and sidewalk edges, around patios, and flower gardens. We use edgers and other task-appropriate tools to perform the task efficiently. With this service, your outdoor area will always look neat and clean.
Dethatching
Nobody wants an untidy lawn due to thatches of dead or dried grass. We can solve this problem with our dethatching services. This procedure will encourage grass growth and make your lawn more attractive. We highly recommend this procedure in the spring and early fall. We remove thatch buildups by using power rakes and proven techniques.
Core Aerating
Core aerating will improve the condition of your soil by allowing better nutrient and organic material penetration. This landscape maintenance procedure will also improve water absorption and rapid grass growth. We recommend performing it during spring or fall for optimum results.
OverSeeding
Overseeding is an effective way of making your lawn more presentable and healthy. When done on a regular basis, it repairs dead spots and holes, removes nasty weeds, and makes the grass thicker. This procedure is best done with dethatching or aeration.
Brush Hogging
Allow us to perform brush hogging on your overgrown outer lawn areas, ponds, and hillsides. Our crews will cut anything less than 1" in diameter with a walk-behind brush hog. We can also work on expansive lawns or clear lots if needed by the client.
Tree/Shrub Pruning & Trimming
We can remove tree limbs and branches, as well as achieve specific shapes out of your trees and shrubs. Our tree/shrub pruning and trimming services are highly preferred by most Michigan clients because of our expert crews and complete tools and equipment. We also take care of the proper debris disposal.
Weed Control
No one wants a lawn or landscape infested by nasty weeds that make the outdoors look untidy and plants unhealthy. With our proven weed control solutions, you can have weed-free lawns and outdoor spaces that look presentable at all times.
Spring and Fall Clean-up
Michigan's changing seasons bring with them a lot of required upkeep to maintain a beautiful property. Our company specializes in cleaning up mother nature's mess after the winter and fall seasons. We perform clean-ups in the spring and in the fall to help clear debris and leaves from your lawn and landscape in order to prepare your property for the upcoming seasons, and to avoid any damage in the future.

Click on the images below to view a larger display.


Before

After

Before

After

Before

After
Call us at (231) 629-8310 for inquiries about our comprehensive landscape maintenance services. For us, there's no limit to what a landscape should look like, which is why our installation, design and maintenance services are always out of the ordinary.