Lawn Installation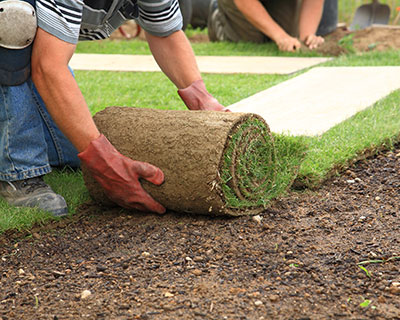 Installing turf on your barren outdoor space will transform it into a green and beautiful spot. It will also become a perfect place for family outdoor activities and special occasions. Aside from scaling up your property's resale value, a newly installed lawn will also help improve the air quality in your surroundings and prevent soil erosion. However, you can only achieve these benefits if you get the services of a professional lawn installation company. At Pro-Turf Outdoor Services, we specialize in residential and commercial turf installation. We have created beautiful lawns in Big Rapids, Stanwood, Morley, Traverse City, Acme, Williamsburg, Mount Pleasant, Remus, Cadillac, and Reed City, MI. Call us at (231) 629-8310 and we will make your lawn a winning showpiece all year round.



Sod
Sod is still the best material to use whether you want to install a new lawn or replace an existing one. It also provides instant protection against soil erosion and is best installed in areas that are erosion-prone. Sodding is our preferred method since it reduces the risk of dust, dirt, and mud impacting your property. The grass can tolerate foot traffic early on and provide a verdant, weed-free lawn in just a matter of weeks. This lawn installation method is also cost-effective as compared to seeding since you dramatically save on irrigation costs. Laying sod does take effort and must be completed as quickly as possible since it has the potential to dry out. To avoid this scenario, our sods are only cut and delivered on the same day that they will be installed.
Hydroseeding
Hydroseeding is a planting method that is typically recommended for sloping lawns and hillsides. However, not all lawn installation companies offer this kind of service since its application requires proper training and special equipment. The quality of the seed mixture and the use of correct application techniques also play a major role in achieving a green and vibrant lawn. And here at Pro-Turf Outdoor Services, you can rely on our expertise in this area.
Laser Grading
Laser grading utilizes precision instruments to move and set the soil on a grade using a laser transmitter across the entire site. As a landscape design component, this method is typically used for:
stabilizing slope
contouring landscape aesthetics
controlling irrigation runoff and surface drainage for rainwater
applying soil mechanics on foundations and footings
Additionally, laser grading guarantees safer and better-quality drainage, which is the biggest issue in any field. At Pro-Turf Outdoor Services, we have a professional team specializing in landscape and turf installation. We also equip our men with heavy-duty equipment, such as excavators and graders. With these resources, we can complete your project faster and more efficiently.
Topsoil
Plants may not grow healthy if your soil is devoid of vital nutrients and if the type of soil is not conducive to planting. If you wish to breathe new life into your lawn or garden, then adding topsoil is the only logical solution. At Pro-Turf Outdoor Services, we supply top-quality topsoil in small or large quantities.
Expert Lawn Care Services
If you are a DIY homeowner or a contractor looking for a reliable outdoor specialist, please contact us at Pro-Turf Outdoor Services. You are always guaranteed of top-notch lawn installation and landscaping services. Our trained & knowledgeable staff will make sure your lawn is well taken care of and maintained, with great attention to detail. Your whole landscape will be in good hands if you hire a well-experienced landscaping company like us. Call us today!