Irrigation and Sprinkler Systems in Evart, MI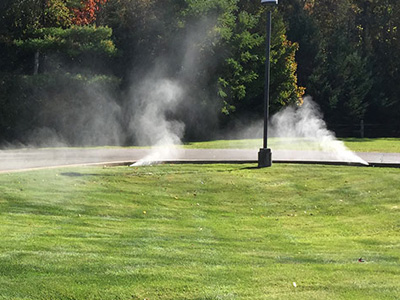 The attractiveness and viability of your environment are dependent on several things. Choosing high-quality plants, topsoil, fertilization products, and insecticides are essential. However, in addition to all these factors, you must ensure that your flowers, grasses, and trees are consistently irrigated, which necessitates well-designed and -installed irrigation systems.

Pro-Turf Outdoor Services has been in this sector for many years. We have all the expertise, resources, and expertise to provide our Evart, MI customers with superior irrigation and sprinkler systems.


Irrigation System Design and Installations
We build individualized plans that include every area of lawn and garden irrigation. You can feel confident that we will supply you with outstanding solutions, including designing, and installing the best, most advanced irrigation systems.

We understand what it takes to install landscape irrigation systems for residential and commercial customers with years of expertise. Before developing a plan, it is vital to investigate and evaluate each property's available area.

Some property owners choose to irrigate their landscaping and grass areas. However, they quickly find that this activity is time-consuming and laborious. As mentioned, we always take a customized approach to our projects, providing various irrigation systems based on the kinds of plants, the outdoor area layout, and the types of plants. We use various irrigation products in our work:
Automated sprinkler systems
Drip irrigation systems
Soaker hoses
Other
Sprinkler System Installation
Numerous manufacturers and brands produce various types of automatic sprinkler systems. We have experience with a wide variety of installation jobs. First, our professionals will provide you with detailed information on the sprinklers that best meet your landscaping needs.

They will assure the installation of durable and long-lasting items. Please get in touch with us if your sprinkler system is not functioning correctly. Our professionals will visit your home or business to evaluate the installations and diagnose the problem. Due to our significant expertise and understanding of the industry, we can perform landscape irrigation projects within budget and on time.

We can install rain sensors and use modern equipment in our work. You are at the right place if you need durable sprinkler systems for your commercial or residential property in Evart, MI. You can feel confident that our installations will last for years with minimum upkeep.


Garden Sprinkler Replacements and Repairs
If your irrigation system is malfunctioning or has grown obsolete, we can modify it to match your current requirements. Sprinkler system repairs are one of our areas of expertise, and we always strive to deliver the most satisfactory customer service possible. Our crew will evaluate the installations to decide if replacing or repairs are the best course of action for you.

We are the sprinkler installation company to call if you want specialists who provide superior quality and allow nothing less than the best. We emphasize providing exceptional customer service while providing the most cost-effective solutions for irrigation installation.

We are committed to offering our clients the best solutions at the most cost-effective pricing. We personalize our services and cater to your specific needs. Call Pro-Turf Outdoor Services (231-629-8310) or drop us a line through this Online Form for more information. One of our experts will call you to discuss your requirements. Use this Request a Quote for an estimate of the job.