Landscape Services in Cadillac, MI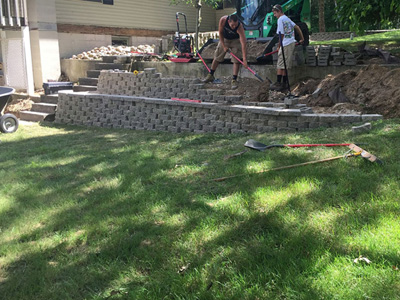 Pro-Turf Outdoor Services offers a wide range of expert landscape care services at an affordable price. We are one of the few landscape maintenance firms in the state with vast expertise in and around Cadillac, MI. Our major objective is to always surpass your expectations by providing high-quality work and customized service. We offer everything you need from a full-service landscaping company to enjoy a well-kept, attractive landscape that will bring you delight and pride. We serve both residential and commercial clients, tailoring our services to their individual requirements.


Landscape Maintenance
Landscape maintenance is a crucial aspect of ensuring a property's sustainability and resilience, and that is what our team helps with. We are committed to providing our clients with value and offer customized landscape maintenance plans and packages that include everything from hardscape maintenance to lawn, plant, tree, and shrub care. We are committed to using eco-friendly products and materials in our work and source all our organic fertilizers and pest control products from the best local suppliers.

Our skilled team systematically checks all the living elements for signs of infestation or damage. They handle all these issues, ensuring that your garden or landscape looks great and is always healthy. We know that different plants, grasses, and trees have unique needs, and we devise suitable landscape maintenance plans to meet these needs. Our proactive and friendly crews ensure that you have great outdoor spaces to enjoy on your property right around the year.


Lawn Installation
Installing grass on empty outdoor spaces will make it a lush and gorgeous space. It will also be an ideal location for leisure pursuits with family and friends. A newly installed turf will increase your home's market value and help to enhance the overall air quality in your neighborhood while preventing soil erosion. These advantages, however, are only attainable if you choose a competent lawn installation company. We specialize in residential and commercial turf installation at Pro-Turf Outdoor Services.

Whether you're installing a new lawn or replacing an old one, sod is still the best material to utilize. It also provides immediate soil erosion protection and is an excellent instant lawn option. Hydroseeding is a lawn installation method commonly used on sloping lawns. However, not all grass installation companies provide this service since it necessitates expertise and equipment. We can help with sod installation and hydroseeding as required.


Lawn Care
Lawns that are lush and green are an excellent way to make your home appear and feel more affluent. On the other hand, maintaining these installations is a complex undertaking. You'll need expertise for this job because it takes a lot of effort and time to perform it yourself. If you want to see excellent results, constant lawn maintenance is crucial. It is why we collaborate closely with you to identify your landscape's unique needs and then create personalized solutions to satisfy those needs. Weekly quarterly, monthly, and annual lawn care contracts are available. We provide customized lawn care packages that can include:
Mowing
Core aeration
Organic fertilization
Dethatching
De-weeding
Mulching
Spring and fall lawn care
Topdressing with compost
Pest control

If you are looking for high-quality services, you are at the right place. Our experts focus on customization, completing every task skillfully and on time. We use top-quality materials and products while employing the best installers in the region for all types of landscape installations. Our commitment to quality and focus on detail help ensure the best results.

For more details on our landscape maintenance, lawn installation, and lawn care solutions in Cadillac, MI, please call Pro-Turf Outdoor Services at this number - 231-629-8310 or write to us through this Online Form.