Lawn Care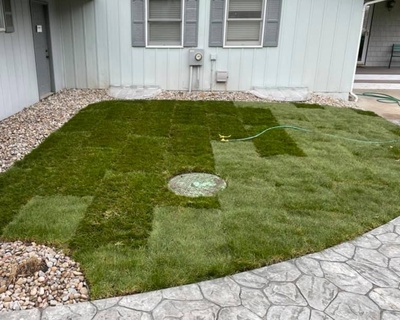 A lovely lawn is something that almost everyone wants to have on their property. These spaces are perfect for unwinding with friends and spending quality time together. The open areas are excellent for playing with your children or pets if you have them. Because of the high traffic, lawns can rapidly degrade if you don't care for them adequately. Regular maintenance, such as mowing, fertilization, and more, helps to keep the grass strong and healthy.
Custom Lawn Care Plans
Lush, green lawns are a terrific way to make your house seem and feel more luxurious. Taking care of these installations, on the other hand, is no easy task. You'll need specialists for this project since doing it yourself requires a lot of time and effort.
As a market leader in this industry, JT Services Lawn Care, LLC, has a lot to offer; we are local to your area and can provide reliable and scheduled lawn maintenance services. When it comes to lawn care, we prioritize providing custom solutions for each of our residential and business customers.
Top-Quality Lawn Care
Lawn maintenance requirements vary widely from one property owner to the next. Our company is aware of this and provides a selection of lawn care options to suit various budgetary requirements. Regardless of the lawn care packages you need; we never skimp on quality. We approach one-off services in the same way we approach contractual projects: with efficiency and diligence.
Experience has shown us that consistent lawn care is essential if you want to see good results. As a result, we work closely with you to determine your landscape's specific requirements and then develop custom designs to meet those goals. We provide weekly lawn care as well as monthly, quarterly, or yearly lawn care contracts.
Residential & Commercial Lawn Care
We can take care of any lawn care job, and we'll make sure it's done well the first time. The lawns on private residences aren't as extensive as commercial sites. On the other hand, the yard spaces may get more significant usage since the owners may utilize them often. Because of this, we provide specialized lawn care and maintenance services for homeowners.
Commercial lawn care, on the other hand, needs a much larger workforce. There may be many grassy places in the landscape if the property is large enough. It is the responsibility of these property owners to always keep their outside areas neat. We make sure that our commercial lawn care services are the best as it helps business owners maintain their property.
Lawn Care Plans
We provide custom lawn care packages, which can include:
Mowing
Dethatching
Core aeration
De-weeding
Mulching
Topdressing with compost
Spring and fall lawn care
Organic fertilization
Pest control
If you're looking for a good deal on high-quality services, we're the ones to call. We encourage you to talk to our experienced staff about your needs so they can come up with the finest solutions. For detailed information about our Lawn Care plans, please call Pro-Turf Outdoor Services at 231-629-8310. You can send us your service requests via this Online Form as well.