Landscape Maintenance Tips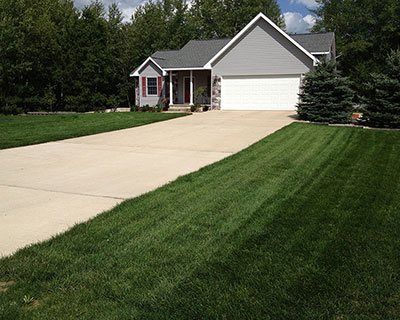 When you are planning the garden and yard design of your property, you want to be sure that everything is just right and it's why you spend time deciding what kind of theme and concept you want, the materials to be used and the features to be installed. However, that is only one aspect of having a beautiful landscape. Maintaining the yard and garden spaces is as important as getting them designed and installed well.
When you want excellent landscape maintenance services, you need to look no further than Pro-Turf Outdoor Services. They cater to customers in and around Big Rapids, Stanwood, Morley, Traverse City and Acme. Over the years, they have also handled projects for customers in and around Williamsburg, Mount Pleasant, Remus, Cadillac as well as Reed City. The different services the company provides are:
Lawn Care
You know that having a great-looking lawn space is a lot about maintaining it well. It would have to be watered regularly, aerated, de-weeded and fertilized at regular intervals. The company that handles the lawn care services for you will ensure that all these things are done on time. They will provide customized solutions based on the size of your lawn, the type of soil and grass and what your specific requirements are.
Landscaping
If you don't maintain your landscape well, even the most beautifully designed spaces can deteriorate very quickly. It's best to hire professionals for this job as they have the expertise and experience to ensure these spaces stay looking good at all times. Most companies that handle landscape planning and installation jobs, also provide maintenance services for these spaces.
Lawn Maintenance
When you get a lawn installed on your property, you do so because of the greenery and freshness it adds to your property. However, the only way it will stay healthy and green is if you ensure that it is looked after and cared for by experts. The grass requires regular mowing and trimming and all the weeds will also have to be removed on time. The lawn care professionals will also aerate and use the right fertilizers for the grass on your property. They will create a custom-designed lawn maintenance schedule based on the type of lawn spaces you have.
Lawn Service
Keeping your lawn spaces looking good and healthy, is a lot about making sure that they are cared for well and with regularity. This can happen only when you hire professionals for the job. The lawn service personnel will come over to your property at pre-decided intervals and will tend to the lawn in an expert manner. They will ensure it's free of weeds and infections and will also mow and trim it with regularity.
Lawn care is a specialized job and when you are hiring professionals to handle it, you want the best. The company should be well-established and reputed like Pro-Turf Outdoor Services and should be able to provide you with the kind of solutions you require, at a reasonable cost.
"MORE ARTICLES"
Irrigation
Landscape Design
Landscaping
Lawn Care
Snow Removal