Best Irrigation Systems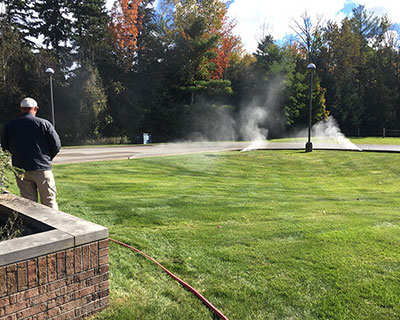 There are a number of different things that come into the picture when landscapes are being designed and installed. While most people focus on the plants, trees and outdoor features such as outdoor kitchens etc. there are some features that are out of sight, but are equally important to the health and sustainability of the landscape. Regardless of how beautiful a landscape is, all your plants and trees will survive only when you have a proper irrigation system installed.

When you want excellent lawn care services, you need to look no further than Pro-Turf Outdoor Services. They cater to customers in and around Big Rapids, Stanwood, Morley, Traverse City and Acme. Over the years, they have also handled projects for customers across Williamsburg, Mount Pleasant, Remus, Cadillac as well as Reed City. They provide different irrigation solutions, such as:
Drip Irrigation
This is a simple yet effective system that many landscaping experts use in their projects. These are water-efficient installations that don't use any electricity either; this also makes them energy-efficient and cost-effective. This system is made up of a network of pipes and emitters. The latter deposit small amounts of water right at the roots of the plant and you can choose from emitters of different sizes. The plants and shrubs get watered regularly and this helps them stay fresh and healthy, right through the year.
Sprinkler System
It's rare to find a landscape without a lawn and this installation adds to the beauty, functionality and value of your property. However, your lawns can stay healthy and green only when they are watered with regularity. Using a garden hose to water the lawns can be quite a tedious task and the best way to avoid all these problems is to get a modern, automatic sprinkler system installed. Many systems also have rain sensors attached to them and the sprinklers won't come on when there is a shower. Since your turf gets watered at the right times every day, it stays looking lush and green at all times.
Irrigation Systems
The kind of irrigation installations you choose to get installed on your property depends on the type of trees, plants, flower beds and grass you have in your landscape. These systems have to be planned well as different plantings have different watering needs. The landscapers will discuss your requirements in detail and understand what kind of softscaping you plan to have on your property.
The solutions they provide will be based on this discussion. It's important that they provide custom solutions that also fit well into the budget you have for the project. Ideally they will use a suitable mix of drip irrigation, soaker hoses as well as automated sprinkler systems.
Irrigation installation is a specialized job and when you are hiring professionals to handle it, you want the best. The company should be well-established and reputed like Pro-Turf Outdoor Services and should be able to provide you with the kind of landscaping solutions you require, at a reasonable cost.
"MORE ARTICLES"
Landscape Design
Landscape Maintenance
Landscaping
Lawn Care
Snow Removal