Landscaping Ideas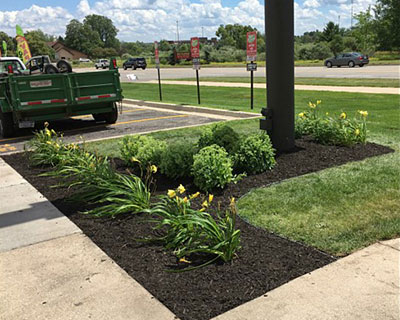 Landscaping is something that requires a great deal of creativity and technical knowledge. While it may seem like it's nothing more than installing pavers, some masonry elements and plants and trees etc., the fact is it's a lot more than that. Every landscape has a number of elements and features and a variety of materials are used in the installations. This makes it important for the landscapers to be very knowledgeable about all these aspects.
When you want excellent landscaping services, you need look no further than Pro-Turf Outdoor Services. They cater to customers in and around Big Rapids, Stanwood, Morley, Traverse City and Acme. Over the years, they have also handled projects for customers in and around Williamsburg, Mount Pleasant, Remus, Cadillac as well as Reed City. The different services they provide are:
Landscape
When you are getting your landscape design plan, your landscaper will discuss all your requirements with you in detail. They will understand what your ideas are; the kind of materials and finishes you like and what features you need to be installed in the landscape. The designs they provide will include things like softscaping, hardscaping, water features, decorative masonry elements etc.
Landscape Design
The design of your landscape will determine how functional and aesthetically appealing it will be. The designers will focus on including elements and features in the right measure; this creates a very well-balanced space. Care will be taken to ensure that the plan of the gardens and yards complements the architectural elements in your home. This lends a cohesive look to your property and increases its value. The design theme will also be carried right through the landscape and the best materials will be used to create the right effect.
Lawn Care
Lawn areas add a very charming look to a property. They provide a lot of greenery and become a good backdrop for the rest of the plantings, trees and flower beds etc. They also provide a good space for your kids and pets to play in and you can entertain guests in these spaces too. However, lawn areas also need a lot of attention and care and it's important to hire professionals for the job. They will design the right turf care plan based on the size of the lawn installation and the grass and soil present there.
Landscapers
The landscapers you choose for your project will make all the difference to the way your gardens and yards look and perform. They should be skilled and reputed, and should have the experience to provide you with the kind of solutions you need. When you hire an experienced company for this work, they will ensure your design and function requirements are met and that you get the kind of landscape you need.
Landscaping is a specialized job and when you are hiring professionals to handle it, you want the best. The company should be well-established and reputed like Pro-Turf Outdoor Services and should be able to provide you with the kind of solutions you require, at a reasonable cost.
"MORE ARTICLES"
Irrigation
Landscape Design
Landscape Maintenance
Lawn Care
Snow Removal